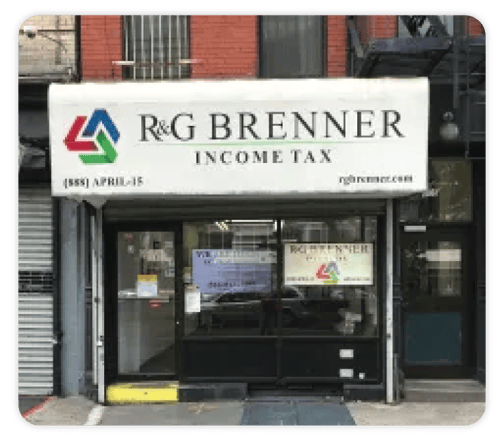 Address: 305 East Houston Street
New York, NY 10002
Phone: (646) 666-9091
Fax: (212) 254-1053
Find Nearby Location
Want to see someone in person? Here are some R&G Brenner locations close by that can help you with what your accounting and tax preparation needs. Please check opening hours for each location.

Downtown
206 Livingston Street
Brooklyn, NY 11201
Call us: (718) 596-1188


Middle Village
74-25 Metropolitan Avenue
Middle Village, NY 11379
Call us: (347) 642-4978

"Each year, taxes make me so incredibly nervous because I am most an independent contractor/freelancer. Each year, I go in, and the entire process is seamless, stress-free. Thank you R & G. Thank you, Kelvin. See you next year!"

*Actual customer testimonials. Photos are illustrative only.
4.8/5



14 Reviews

"I've had my tax prepared by Kelvin Acevedo for a few years now with no issues. He's knowledgeable and available when contacted for inquires etc. Trust and go to Kelvin, you'll get the service you pay for in timely manner!"