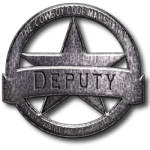 NY tax commissioner Thomas Mattox recently deputized the entire staff of the NY Inspector General's office in what is a being dubbed a pre-emptive "crime fighting" move. What was meant to be a quite ceremony has caused a stir because the new powers granted to the IG's office allows them the ability to look at NY state employee's tax returns–and potentially any other NY tax return that they dub "relevant" to an investigation–without the taxpayers consent. Mind you, this power is not limited to select IG employees, but rather ALL employees including low-level receptionists and clerks:
In a memorandum of understanding [(MOU)], Mattox made all of the IG employees deputy tax commissioners. He appointed each IG employee by name, from [Inspector General] Biben to secretaries at the IG's office. The list was filed Jan. 31 with the Department of State. The memo of understanding permits those appointees the right to "inspect state tax returns and state tax return information" to allow the Inspector General to fulfill its "legal responsibilities" and "essential function." The tax data can be turned over "when the information is relevant and material to an ongoing NYSIG investigation." The caveat is that the probes must entail the conduct of Department of Taxation and Finance employees or "tax crimes potentially committed by employees" of state agencies.

There is no legislative authority for this data exchange. Several legislative officials and lawmakers did not know anything about the memo of understanding, and some expressed surprise or concern.
Income tax returns contain highly sensitive personal information and this move at the very least raises serious privacy concerns, and at the most may be outright illegal:
Steven Teitelbaum, former chief counsel to the tax department from 1995 to 1999, said the IG is getting unusual powers under a deal that is not lawful. He said the tax commissioner can only make tax department employees deputy tax commissioners. "He's authorized fishing expeditions," Teitelbaum said. "He's given people the authority to look at anyone's tax return" if the IG "thinks somebody is or may have been cheating." Prosecutors are not supposed to obtain the data unless the tax commissioner makes a referral to them, he said.

Laurence Stevens, a staff attorney at the tax department for 30 years before retiring in 2007, said the underlying problem is that tax department employees are barred from giving out information from tax returns. "We took that really seriously," he said, recalling a 1978 case in which the tax department quashed a subpoena from the attorney general's office when its Organized Crime Task Force sought tax data about suspects it was pursuing. The Court of Appeals upheld the department's position to deny the data…

"That MOU," said Teitelbaum, "is one of the most overreaching usurpations of the law that I have seen in almost 12 years of varied state service. This cannot be allowed to continue." He said public employees should be concerned. Alerted to the memo of understanding by the Times Union, Public Employees Federation spokeswoman Darcy Wells, said…

the IG could infringe on privacy rights of employees. "We have major problems with it," she said.
State Senator John DeFrancisco called these appointments dangerous and questioned the "legality of the authority given by Cuomo's tax department, which has strict privacy rules, to his appointed state inspector general, who has broad investigative power…"
Assembly Speaker Sheldon Silver, a Manhattan Democrat, said the issue is a concern because the Cuomo administration is providing private tax records to the Inspector General's Office investigators without subpoenas or other review by a judge, the way district attorneys and the state attorney general must.

"There has to be some standards," Silver said Monday.

"I don't know where legal authority comes from," said DeFrancisco, a Republican, lawyer and chairman of his chamber's Finance Committee. "It could lead to simply fishing expeditions. I just think it's very, very dangerous."

He said district attorneys and the state attorneys general require a court order to get private tax records — and then only after the investigative agency proves the data is needed for an investigation that's already under way.
The Governor's & The NY State Department of Taxation are downplaying these appointments saying that the IG department has affectively had these powers since at least 1996. However, DeFransico–who has been a Senator since 1992–said "This is something that is new to me". Quite frankly, the fact that it is being downplayed should automatically instill trepidation…especially for NY State employees.
Source: Times Union & The Wall Street Journal