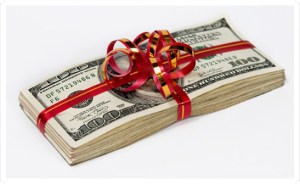 According to the New York State Department of Finance and Taxation, the remainder of all delayed refunds should be ready by "early August":
The wait for state tax refunds has progressively grown longer, reaching 12 weeks and beyond this year, said Phillip Goldstein of CPA firm Goldstein Lieberman & Co. in Mahwah, N.J. He blamed the delay on state labor cutbacks.

"They have fewer people working there, which is holding things up," Goldstein said of the state. "And this isn't just a New York issue. We're seeing this in every state across the board."

Geoffrey Gloak, spokesman for the state Department of Taxation and Finance, cited the inexperience of a new vendor processing the returns, the New York State Industries for the Disabled.

"The tax department is assisting the vendor to both speed processing and provide quality assurance," according to a statement issued by the department. "Recovery of the department's costs associated with this effort and interest payments (to taxpayers) is provided for in the contract and will not come at an additional taxpayer expense."
If you still haven't received your refund from NY State, hopefully you will soon. Have you received your NY State refund yet? Let us know in the comments section below.
Source: Record Online
UPDATE:
August 5th: NY State still has approximately 40,000 tax refunds to issue to NY state residents. Tax Department spokesman Geoffrey Gloak recently said that these "…remaining refunds [will go] out in the upcoming days…". I guess it all depends on what their definition of "upcoming days" is.
UPDATE:
October 9th: All remaining refund delays to end as of today, Oct. 9th 2013.